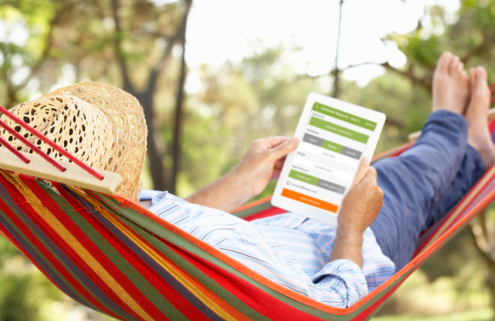 The short summer months bring opportunities for many things. Playing in the outdoors without a care for the elements, lazy afternoons in the shade sipping iced tea… And catching up on home maintenance without the weather dictating your availability to do so.
With so much to do and so little time, here is a list of home maintenance and repairs you may not have thought of. Take care of these now to enjoy the benefits and avoid trouble later in the year when Mother Nature is not so kind.
General Maintenance
Almost anything in your home that you regularly use to support your daily living needs a little tender loving care at least once a year. Here are a few things you may not think of:
•    Before going on vacation, test the alarm to make sure it really does work to keep your home secure.
•    Switching the blades on your ceiling fans is also a great idea. Reprogramming them to spin counterclockwise will push the cool air downwards, and using a ceiling fan will save you money on air conditioning costs.
•    Inspect and clean your dehumidifier filter at least once a month and replace it whenever necessary to keep it running smoothly and mold in your home at bay.
•    Gas grills should be serviced at least once a year. Make sure to cover your outdoor grill when it's not in use to avoid rust and keep birds and bees from making it a home.
Heating and Cooling
Make a GetAssist Request for a Heating and Cooling professional to inspect your home's HVAC system. An update to your air conditioner or furnace can save you thousands of dollars over the long haul. Newer systems have longer warranties, allow you to have more control, and run on 90% annual fuel utilization efficiency. This allows you to maintain a consistent airflow, which averts mold and build-up of allergens. Even if you don't replace your HVAC system, making sure the one you do have is running at its best will help you save money and create a less polluted living space. And no one wants the heat to go out in the middle of a cold northern winter.
Insulation
Your air conditioner and furnace won't have to work so hard when your home is well insulated. Insulating your attic in the summertime is an especially good idea since the temperatures can reach extreme heights. Environmental pollutants and allergens are also kept at bay by the proper amount of insulation. Save money all year round by creating a healthier and more energy-efficient home now.
Pest Control
Summer is the peak time for an insect invasion, so inspecting your house and garage for any signs of these pests now is the best precautionary solution. If you don't detect termites early, they can end up costing you thousands of dollars for their demise. Besides damage to your home, insects carry allergies, bite, and sting. Rodents and other critters are responsible for carrying illnesses and even more bugs. Make a GetAssist Request for pest control and help will come straight to your door to eliminate them.
Protect your home, while improving its curb appeal and value with Pressure Washing or Repainting:
Pressure Washing
Hire a professional on GetAssist to power spray your outdoor surfaces. This removes less desirable materials such as dirt, mold, and mildew, which can break down your siding, and if let go too long, end up in your house.
Repainting Wood Siding
The summer's heat, rain, and wind can wear the paint away that the previous winter already started on. If the paint is starting to chip, applying a fresh layer is a great head start into the next round of season's weather. Not only that, It can prevent termite damage and elongate the life of your siding and trim.
Roof Repairs, Gutters, and Downspouts
Roof
Inspect the roof as a matter of precaution. Discolored or broken shingles are signals that urgent repair is needed. Older shingles are prone to issues like leaking and excessive warmth, whereas newer shingles provide more leak protection and energy efficiency, not to mention, style. In this scenario, hiring a roofing professional on GetAssist is the safest and easiest option.
Gutters and Downspouts
Check your gutters and downspouts for leaves and other natural substances. When gutters are full, they gain weight and pull away from your residence. Filthy gutters put cracks in the wall and cause mold and mildew growth. When inclement weather comes, whatever time of year it may be, if the gutters and downspouts are clogged, precipitation can't drain which can cause too much water on the roof or ice dams. Make a Request on GetAssist to get your gutters serviced, and let someone else do the dirty work!
Waterproofing the Basement
The older your home, the more vulnerable to high amounts of water damage and excessive moisture from rain and humidity. This is especially true of an unfinished basement made of concrete or cinder block. Reduce the risk of sickness and lost property from standing water, rot, mold, moisture, and insects by Making a GetAssist Request for a Contractor to waterproof and/or finish your basement.
Weatherstripping
Applying weatherstripping to your doors and windows will fight against the summer heat, as well as keep your precious cool air inside. Aside from this, they can save you money on running overburdened heating and cooling machinery and keep you from spending hundreds to thousands of dollars on new windows. The same benefits of weather stripping apply through the winter, ensuring you a safe and warm year.
Windows and Doors
Summer is an opportune time to replace old or broken windows and doors. Professionals can quickly come to your home and switch out the new for the old without battling the elements. Broken windows and cracked caulk result in water damage and loss of cold and hot air. You can often enjoy energy savings on both your utility bills and taxes when you replace your old windows with energy-efficient windows.

Whatever your house needs, you don't have to do it alone and miss out on Summer fun. Make a GetAssist Request for any and ALL home maintenance on the FREE, safe, and private GetAssist Social Network, and the help you want will come to you.
https://www.getassist.com/wp-content/uploads/2017/07/summer-make-a-request-495x400.jpg
400
495
Rebecca LeClaire
https://www.getassist.com/wp-content/uploads/2019/06/galogo-300dpi-300x113.png
Rebecca LeClaire
2022-06-24 08:47:41
2022-06-24 16:23:28
Take Advantage of Summer to Prepare for a Year of Home Maintenance