Controversy is easy to find right now, and everyone seems to have an opinion. With events unfolding in the United States as we have never seen before, online chatter is not expected to simmer down anytime soon. It has never been clearer that our words matter, so if you are looking for a way to have productive digital discourse read on to learn what the experts suggest.
The Impact of Arguments
Don't get it twisted; we are all for expressing disagreement. Agreeing to disagree is healthy, progressive, and may improve your digital social skills. However, aggressive cyber fights induce fear, anger, judgment, and a general discourse between family members, friends, and coworkers, as what you put out there is public. Samuel from Round Rock, AZ, represents his perspective in "What Does America Stand For," a New York Times teen forum, "We're raising kids who only focus on the differences between them and others. They see somebody who doesn't look like them. They say, "You don't have the same right to be here as I do." They look at somebody, and they listen to somebody and say: "They don't talk like me. That person doesn't have as much to contribute to this world as I do." And it is a very dangerous way of thinking."
Even our youth recognizes the prominent invalidation associated with the sharing of civic opinions. Feel free to lean on the following sequence to handle squabbles appropriately.
Start The Talk Amicably
Has anyone ever gawked at you when you simply weren't in the mood? It feels like a trap, right? Remember this experience before you forcefully initiate a conversation. Instead, hand out an invitation to exchange insights suggest Rev. Jennifer Bailey, the founder and executive director of Faith Matters Network, an organization that trains leaders and activists to create connected communities. Once your respectful argument has started, it is essential to establish common ground between you and your opposer. Initially, knowing what you do both value establishes trust; it also humanizes you both. How else are you going to take each other seriously?
Stay Out of the Judgment Zone
The Golden Rule applies to successful political discussions, although most of the social crowd forgets it. As hard as it is, work on moving past making snap judgments. (Your opposer will probably be able to tell!) This is how you make enemies early on. Furthermore, rather than attacking personal beliefs, ask open-ended questions about them. Otherwise, whether you mean to or not, you are insulting values deeply linked with emotion. Here is another piece of advice that sets you apart from other social butterflies: Keeping in mind that it is much easier to type candid expression than to speak it, read what you wrote out loud. If you're uneasy about what you just said, you may want to rethink hitting that send/post button. When having a discussion on GetAssist, you can quickly move to video chat with an individual or community that consents to keep yourself in check!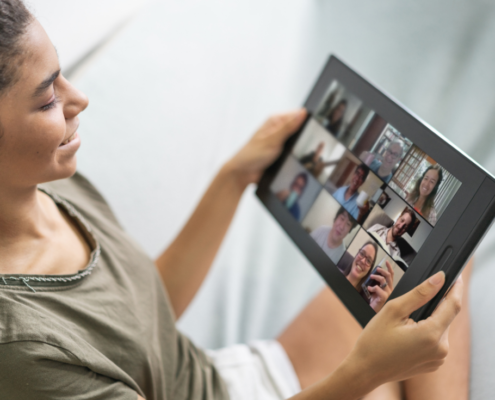 Know When To End It
We've all been there: the moment you just burst, immediately regretting it. Being mindful of how triggered you're getting is a great preventative measure. It is okay to walk away.
Talk With Like-minded People Instead
According to Neil Farber, M.D., Ph.D., "healthy, productive discussions elevate our deeper understandings and allow us to grow emotionally and intellectually. Before you create a political post, consider your goals, the audience and carefully weigh the potential risks and benefits." If the view you feel compelled to express is not going to actually reach the audience you are "preaching" to, you may want to consider a different choir for feedback. (see Farber's stats on the pros and cons of posting an opinion and how persuasive it actually will be.)
It can be relieving to "get things off your chest" to friends you already know mostly agree with you. Plus, rather than getting lost in negativity with like-minded folks, you can collaborate on methods to move forward in a positive and productive manner. Both of these can be accomplished with GetAssist private communities. Join the free social membership and create or join your own family, friends, and common interest communities with top-notch security. Nobody outside of a private community can find or access it or its content. You and every member have the liberty of reporting abuse yourself, instead of algorithm moderation. At GetAssist, private means private, and you decide what content you see and post.  
These four steps will guide your way through constructive chats, even during times of political disruption like these.
Choose Where You Connect
These four steps will guide your way through constructive chats, even during times of political disruption like these. Next time you see a Facebook or Twitter post with an opinion that makes you roll your eyes, we encourage you to put these practices into action. We also invite you to try the entirely different GetAssist experience if you are looking to escape the vitriol, privacy concerns, and censorship wars of mainstream social media. The fundamental way people communicate on GetAssist is within communities. If you don't want someone you don't even know hijacking and pouring fuel on the fire of what is important to you, having the choice of where you can 'connect with purpose' in the first place is essential.
Connect With Purpose on GetAssist today! Join HERE.
https://www.getassist.com/wp-content/uploads/2021/01/boxing-gloves.png
714
1000
Rebecca LeClaire
https://www.getassist.com/wp-content/uploads/2019/06/galogo-300dpi-300x113.png
Rebecca LeClaire
2021-01-19 21:20:13
2021-01-19 21:20:13
How To Have Productive Discussions During Tumultuous Times