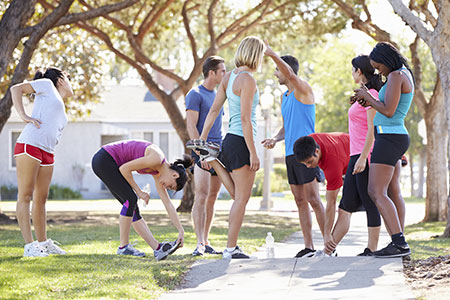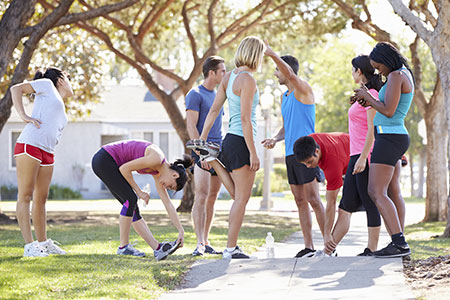 Spring has sprung. Time to get back into shape. Joining or creating a workout community on GetAssist can help you get the results you're looking for. Use your motivation to get others to join the community, so you can keep each other going strong throughout the summer. Here are six tips to make the most of your new workout community:
---
Find a fun new fitness trend
Everyone's curious when it comes to new fitness trends and spring is the perfect time to try something new and fun. Ask your GetAssist community for trendy ideas, then entice your workout friends with paddleboard yoga or a kickboxing cardio class. One try may be all they need to start picking up on the good vibes.
Make it a community affair
Working out with people who live close to you makes it easy to get together. Ask around the neighborhood to gauge interest and create a group on GetAssist. And don't worry about those who are hesitant – when a growing group of joggers passes their window each morning, they'll feel like they're missing out and want to join in too!
Friends help friends stay in shape
Everyone could use another friend, especially one who will support their health and wellness goals. Invite people from your different social circles to join your GetAssist workout community. You'll develop a new group camaraderie and soon you'll find they're scheduling workouts just to hang out with each other.
Your new therapy session
Convincing your workout community to swap happy hour for exercise hour may be a challenge, but a good sweat session with friends can be just as therapeutic and far more rewarding than any cocktail. Exercise has an instant mood-enhancing effect and eases the stresses of everyday life. Use your workout as a time to connect, vent and laugh with your friends and it won't feel as exhausting.
Set goals and reward yourself
Before you start, have everyone set personal goals in your workout community and how they'll reward themselves when they meet that goal. Someone might want to go skydiving once they lose 20 pounds, while someone else may want to treat themselves to a spa day once they can fit back into their college-days jeans. Make it even more fun by having the reward be a surprise that the rest of the group plans.
Keep it organized, keep it flexible
Coordinating multiple schedules to get that gym time in is half the battle. Keep everyone organized by setting up and sharing a calendar in your GetAssist workout community and add each day's workout to the calendar. Other group members can add personal conflicts or add new events. Having a set calendar helps eliminate excuses, but remember, stay flexible – things do come up and no one likes an overbearing taskmaster.
https://www.getassist.com/wp-content/uploads/2016/12/GA_Blog_Coordinate-Workout-Group.jpg
300
450
GetAssist Author
https://www.getassist.com/wp-content/uploads/2019/06/galogo-300dpi-300x113.png
GetAssist Author
2015-04-29 12:02:49
2019-05-15 09:45:55
Keep Your Fitness Goals on Track with a Workout Community