Everything closing down, keeping your distance from loved ones, your daily life interrupted; it all happened so suddenly. Feeling forced to stay inside can surely give you cabin fever, but that doesn't mean you can't make the best of the situation! 
For a few months now, it's felt like we've been at a dead end. We've binged watched all our favorite TV shows, slept in unusually late, got back into old hobbies, or even found new ones. While it's been nice to sit back and enjoy the time with family, we also start to miss our friends. And now, it's not the same, you can't just make a plan and make it happen, there's a set of guidelines to be followed. Even though it can be tricky planning around it all, we've got some tips and ideas to help you get back into the social norm!  We hope you enjoy these social distancing event checklists to get the ball rolling.
Outdoors
Most communities have deemed outdoors to be a safer option for gatherings and have begun to allow them, but still encourage or require social distancing. But that doesn't mean you still can't see your family and friends while enjoying the fresh air, and there couldn't be a better time of year for it!
Social Distancing Picnic
Everyone brings a blanket for their family unit and their own food.

Grilling stations can be set up where one person grills at a time at each. When the food is ready, family units take turns getting their food.

Designate stations for outdoor games that can be played 6 feet apart, such as corn hole, lawn bowling, horseshoes and frisbee golf.
Outdoor Movie Night
Hang a white sheet outside off of a deck or the back of your house or garage.

Be prepared with extension cord and know what outlets work on the outside of your house, or which ones to use from inside.

Rent or purchase a WiFi enabled video projector (these can be found on Amazon for less than $200).

Stream the movie from your phone or hook up your laptop to the projector to play.

Everyone brings their own blankets or lawn chairs.

Pop lots of popcorn! 
Online
You are probably familiar with or have heard of Zoom; a video communication platform where you can catch up with loved ones, join a club, host a meeting or even attend class! But, have you heard of GetAssist's NEW Beta Video Chat? You can do all these things plus keep the conversations going in a chat community! Use GetAssist Video Chat Communities to get a little creative:
Watch Party
Invite your friends to watch your favorite show while commentating to each other at the same time.

With the GetAssist video chat, you can all talk on video, share memes by text or anything you want everyone to see.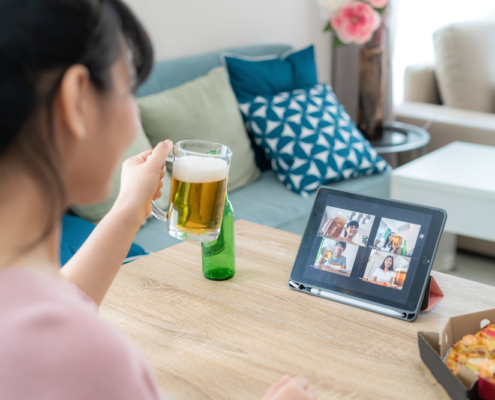 Family Reunion / Cousins Happy Hour
This is not only a time to be sure to connect with the loved ones you would normally see on a regular basis, but to also reach out to those you may have not seen in a long time.
Schedule a video chat with your adult cousins on GetAssist.

Everyone makes their favorite drink.

Take turns updating the family on your life, your kids and what you do for fun.

Reminisce for hours if you like, there is no time limit on GetAssist video chat!

Keep connected in your own private family community on GetAssist, where you can schedule more Happy Hours, gatherings and keep sharing pictures, videos and whatever you like.
Themed Costume Video Party
Choose a theme for a visual themed party; such as 80's Night, Favorite Animal, or Favorite Movie Star.

Everyone shows up on video in their costume surprise.

Everyone has to stay in character throughout the video party.

Plan fun questions to ask for people to answer in character. 
Book Club
Which one of these ideas do you think you will try? Has reading this article sparked any creative ideas of your own? We would love to hear them!
At GetAssist our mission is to connect people with purpose, we can't think of a better time to do that. Sign up for a FREE membership on GetAssist today and start using video chat and private communities to plan your safe and connecting events!
https://www.getassist.com/wp-content/uploads/2020/06/Depositphotos_315193480_l-2015.jpg
1333
2000
Rebecca LeClaire
https://www.getassist.com/wp-content/uploads/2019/06/galogo-300dpi-300x113.png
Rebecca LeClaire
2020-06-29 15:56:52
2020-06-29 16:04:14
Get Back In The Social Game With These Social Distancing Events