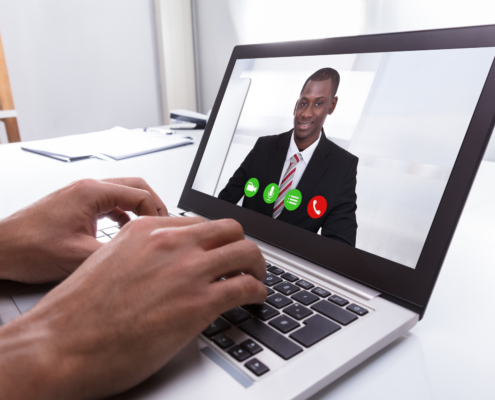 The unknown of Job interviews is stressful enough for both parties when it is face-to-face, but throw in COVID and a strictly virtual meeting, and it is downright nerve-racking. Take a deep breath; we have you covered with these tips for preparing and conducting a virtual video interview, no matter what side of the desk you typically sit on.
Tips for setting up the interview
Post or respond to a job on GetAssist!

Set up and schedule the interview with a reliable video chat provider

Find a quiet space where you can focus and be heard (if you are an applicant, avoid a public place at all costs)

Dress the same way you would if you had the interview in person

Have professional usernames

Prepare questions and have a pen and paper ready. 

Communicate a backup plan prior to the call in case the call disconnects

Make sure you have enough memory and the proper software downloaded by testing the platform for the video call well before the scheduled interview.

Practice using the video chat application and make sure your internet connection is strong
What to expect and how to prepare as the applicant 
Prepare a well-lit background, if your room is sunny, face the sun, do not put your back to it, or you will not be able to be seen. 

Be sure to speak up clearly; everyone's volume is set differently.

Have your email open and be prepared to be sent files or forms to download

Prepare a well-lit background, if your room is sunny, face the sun, do not put your back to it, or you will not be able to be seen. 

Remember to look at the camera directly, not at the bottom of the screen. 

Sit up straight and keep eye contact. 

Think about your body language, especially your facial expressions and what they are communicating

Prepare rough answers to questions you think you will be asked and attach sticky notes with your responses by the camera or the sides of your screen for easy access without skipping a beat. 

Let people around you know you have an interview.

Put animals in a separate room for no distractions, barking, or keyboard mishaps from your wandering cat.

Don't be thrown off by questions related to COVID (how have you adapted, have you been sick, have you been around anyone diagnosed with COVID)

Show up! Nothing is more frustrating to the interviewer, especially when it is a virtual interview than when someone does not bother to show up.

Confirm the meeting date and time, if something happens with your technology, be sure to reach out right away as to why you can not connect, this shows initiative during a stressful time.

Be prepared for anything to happen; the best way to handle this is to relax and keep it cool. That will show how you persevere under pressure.
YOU GOT THIS!
What to expect and how to prepare as the interviewer 
Be prepared for a video call that disconnects
Make sure you followed all our tips for setting up the interview beforehand above.

Prior to the video chat, exchange emails and phone numbers for calling afterward. 

Reconnect the internet and try again

Have phone charged and by you, on silent if you need to call the applicant

Have a backup date/time 
Checklist for conducting a virtual interview
Just as you would expect the person you are interviewing to prepare a well-lit, quiet, and distraction-free space for the call, the same is vital for you as the interviewer for the best quality video interview experience. The environment you prepare sets the tone.

Don't throw out your already proven interviewing skills, bring them all to the table if they have proven to be effective for you.

Have questions prepared ahead of time, the added element of technology and talking through a screen could throw you off your game a little

Be sure to note body language just as you would in an in-person interview, but you will likely only be able to read their facial expressions.

READ 20 BODY LANGUAGE SIGNS FOR THE INTERVIEWER

from Coburg Banks, a recruiting firm.

To determine if the applicant can continue working with you virtually, note how well they hold a conversation in the video chat format.

Be prepared for the interviewee to be in a public place (library, family, club) in order to get a strong connection. Ascertain if that is a condition for them to work virtually and if they will need assistance with reliable internet.

Be prepared for interruptions by the applicant's kids, animals, or surroundings. In the COVID world, this is a reality for everyone. Perhaps even you:) 

No matter what happens unexpectedly, is the applicant able to engage with you the whole time and stay focused with distractions? If so, this is a good indicator they can handle the remote work/life balance.

At the end of the day, no matter what happens on the call, is the applicant qualified, and would they make a good member of your team? If you aren't sure on the second front, schedule a second interview with a group chat on GetAssist with members of your team whose opinion you value and the applicant, afterward, get feedback from them in your private business community.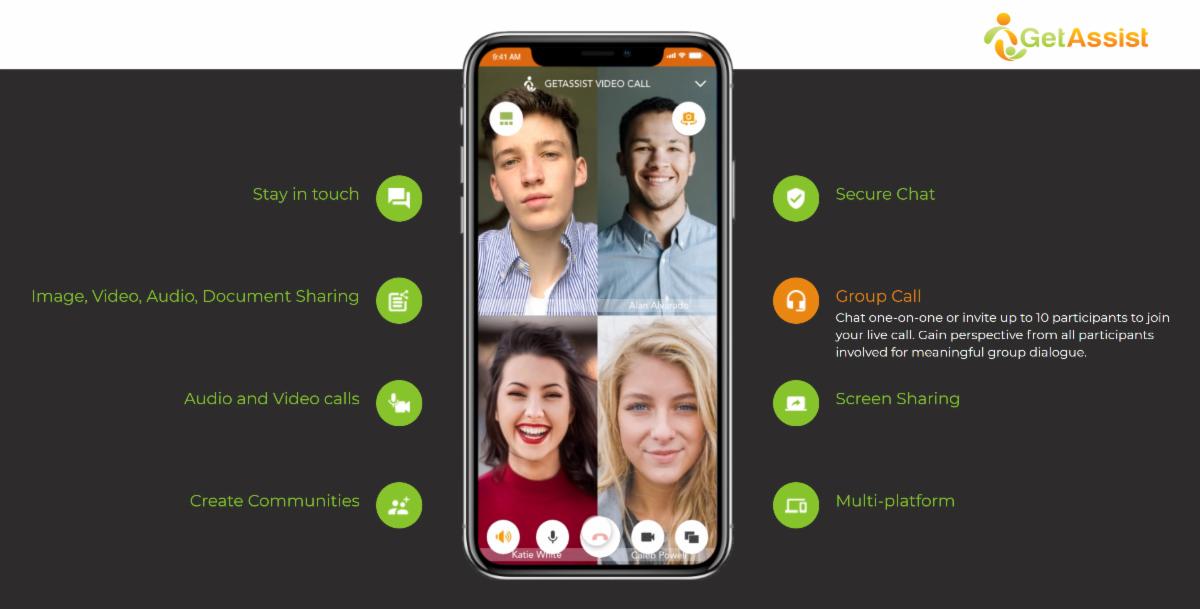 GetAssist Video Chat and Business Communities
Invite the applicant who responded to your GetAssist job posting through GetAssist or simply send an email invite if they aren't already on GetAssist. 
Image, video, audio, and document sharing:
Unlike any other mainstream video or chat platform that exists today, GetAssist Chat allows you to share images, videos, audio files, and documents directly in the chat without having to end the call. 
Create business communities:
Invite your team to a group video chat and easily turn the saved group into a private business community on GetAssist. Your employees will benefit from fruitful dialogue in a safe and secure setting where free-flowing communication is championed.
Secure chat:
With GetAssist Chat, say hello to unmatched privacy and goodbye to anxiety about online safety. You have complete control over chat settings and participants, meaning you can host even the most proprietary conversations without confidentiality issues.
Group call:
The sky is the limit when it comes to conversation inclusivity on GetAssist Chat. Talk one-on-one with a colleague or applicant, or invite up to 10 participants to join in! Group calling allows you as the facilitator to gain perspective from all participants and stakeholders, making for a genuinely productive discussion. 
Screen sharing:
Provide examples on-the-spot and share in-depth details about what you're discussing. With GetAssist Chat, you can share your device's screen directly from the chat to give a clear glimpse of the exciting information you're sharing with an individual or group. Once done with the example, simply exit out of screen-share in one quick click.
Multi-platform:
Ever wish your apps worked just as well on each one of your devices? GetAssist Chat works seamlessly across all devices, creating streamlined communication and file-sharing. Whether on your desktop, cell phone, tablet, or other devices, you'll receive chat notifications and experience the same unmatched user-friendliness across the board.
https://www.getassist.com/wp-content/uploads/2020/07/Depositphotos_181188306_l-2015.jpg
1333
2000
Rebecca LeClaire
https://www.getassist.com/wp-content/uploads/2019/06/galogo-300dpi-300x113.png
Rebecca LeClaire
2020-07-23 17:27:37
2020-07-23 18:13:39
The New Interview Experience in a COVID World