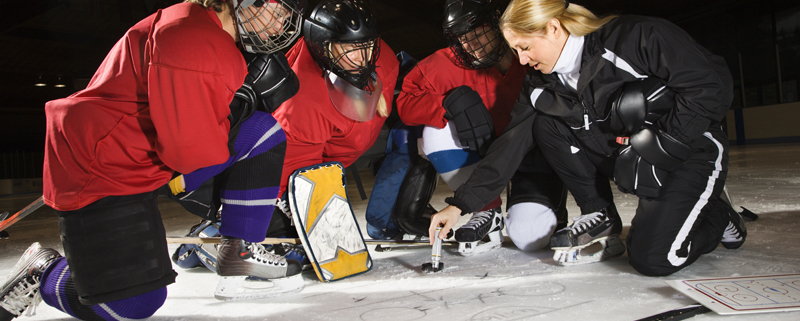 It's December and we all know what that means… HOCKEY SEASON! Whether you play on a hockey team, coach/manage a hockey team, or have a child or spouse that plays on a hockey team, the GetAssist Virtual Locker Room app has your back! Don't stress the details – we'll provide you with the necessary tools to have an incredible season.
Jumpstarting your Virtual Locker Room is easier than lacing up your skates. The team community (coaches, players, assistants, parents, spouses, etc.) just need to download the Get Assist Virtual Locker Room app on their device. Then, simply take advantage of the following features to keep your head in the game and make your season run smoothly. Want a demo? Contact us!
Calendar
Scheduling was once the most complicated task when it comes to organizing a team. With the app, all team stakeholders can stay in the loop and up to speed with team obligations. Here are some examples of how the calendar feature will come in handy:
You can easily integrate the season calendar with your own Google Calendar. With your calendars synced up, you'll never risk overlooking an important detail.
Last-minute changes are an inevitable part of life, but don't worry! In the event of a change in schedule, coaches can update the calendar in real time and notify you immediately via the app.
Scenario: Your friends have reached out to make plans but you need to *quickly* check if there's a game or practice. Just log into the app or pull up your Google Calendar and within seconds you'll be able to confirm plans or politely decline. No more leaving people hanging.
What's New
This feature is ideal for quick and easy dissemination of information to all team stakeholders. In this section, only the community's administrators can make posts, meaning you're getting vital information straight from the most knowledgeable sources. This is the perfect place for the coach to communicate and provide important materials to the team, such as:
Permission forms, uniform order sheets, etc. for members to review, download, fill out and send back.
Parking and facility maps along with game time and location reminders
Insightful/inspirational videos and instructional materials for athletes to use for skill development throughout the week
Scenario: Coach just found out that your game was moved to a different rink within the same facility, so the team will now be using a different locker room than originally noted. Coach posts in the What's New section and you'll immediately be notified. In other words, you were saved the headache of unloading equipment then re-loading just to move to another locker room.
Bulletin Board
This feature is the ideal place for all team community members to come together and share important and exciting information. It promotes team bonding in a safe and private environment. Anybody can post to or comment on this section as long as they are a member of the community. Share exciting information such as:
Team fundraiser details
Team photo information (maybe suggest a team dinner after the photo session)
Share inspirational videos that address the team's current goals
Scenario: You snapped an impressive action photo of a goal, but your family member isn't the one pictured. Upload the photo so that the highlighted player and family members can see! They will appreciate this gesture and likely reciprocate when they snap great photos of your player.
Discussion / Events
This feature is the place for team community members to practice forward-thinking and discuss all next-step things relating to the team. Perhaps there is a topic or goal that has been backburnered… here, the team community can hash out the details and get closer to shared goals. Examples:
Decide the design of a new team jersey
Brainstorm ideas for next season (forward-thinking!)
Determine a tentative line-up for who will provide snacks for upcoming games
Scenario: It is the holiday season and the team wants to provide support to a local organization by hosting an "open skate" in which all proceeds (a small fee will be paid by visitors attending the open skate) will be donated to the organization. Details such as date and time of open skate, fee price, music selection, etc. still need to be determined. This exciting and humbling discussion can remain at the forefront in the Discussion/Events section.
Other miscellaneous scenarios solved via the Virtual Locker Room app
You arrived to practice a little early to get some extra warm-up shots in, but while you were suiting up, one of your skate laces snapped. Not to worry – just hop on the app, post this unfortunate occurrence on the Bulletin Board, and hang tight until your teammate arrives with a fresher lace to share with you!
You're in the middle of a game and you're concerned that your stick is a little too weak. During a time out, open the app and post to see if any family members of your teammates can run and grab a fresh roll of tape for your stick.
Whatever the needs of your team, GetAssist is excited to fulfill them with the Virtual Locker Room app! Want a demo? Contact us!
Stay tuned, we have exciting updates to the hockey team virtual locker room coming soon!
https://www.getassist.com/wp-content/uploads/2018/12/teams.jpg
534
800
Rebecca LeClaire
https://www.getassist.com/wp-content/uploads/2019/06/galogo-300dpi-300x113.png
Rebecca LeClaire
2018-12-11 21:15:48
2018-12-11 21:15:48
Using the GetAssist App for Ice Hockey Season