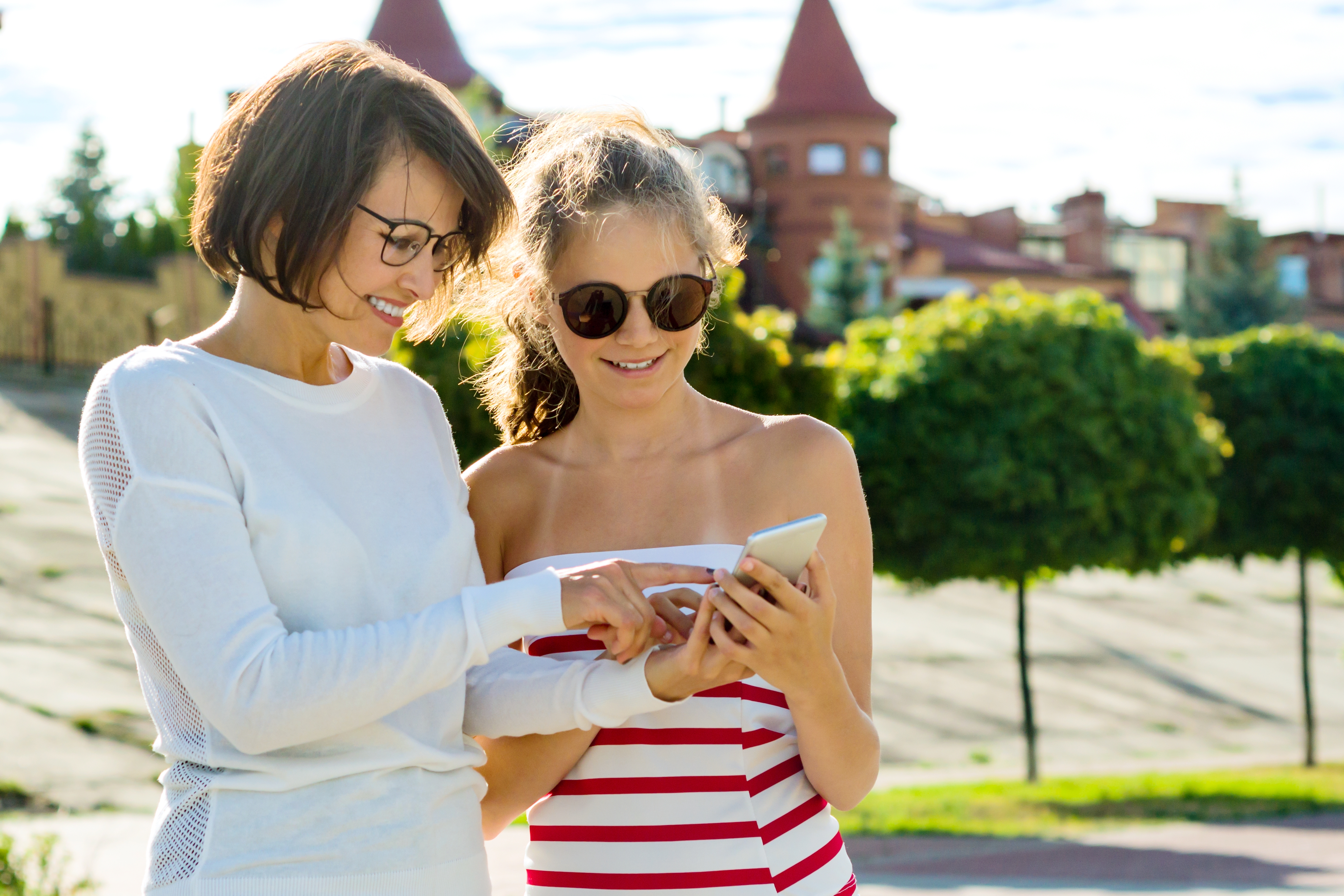 It's sad but true that most teenagers measure a person's relevancy by how many followers they have and how entertaining their social media posts are. If you want to give them advice but can't seem to get through to them, why not try communicating their way? There's great value in using the media at your fingertips to connect in an environment that is comfortable for your teen. Further, your own online activity is vital when it comes to modeling respectful online exchanges!
So, what are you to do? It's not like becoming a social media sensation overnight is viable, but there are some digital baby steps you can take to start connecting with your offspring. Check them out:
Become more engaged and start communicating more often through social media, the ultimate medium of choice. You'll want to be mindful and strategic; don't pick just any old mainstream platform. Instead, choose a safe and secure app that gives you complete control over privacy settings and the types of people you connect with. The

GetAssist

network is emerging as the safest social media platform available today (and it's Ad-Free), so start there!

Once signed up for your GetAssist social membership, create a private family community. This allows you to find your footing in a digital setting where only trusted loved-ones can be the judges. Practice posting creative and strategic content that represents your passions and genuine personality. Not sure where to start? Ask your teen for help! It's their area of expertise, after all!
Stay up-to-speed with events and obligations for each member of your family with a shared digital calendar on GetAssist. No more guessing when your next meeting is or when your kiddo needs to be picked up from swimming practice. Confused about where to enter important details of the event? Look across the room to your own in-home expert…your teenager! They will appreciate the opportunity to share their savvy-ness.
Stay in touch with your kids when they're at a friend's house. Even if their device isn't in service, all they need is a wireless connection to receive communications from you via GetAssist Chat. Send them messages, and/or call them with regular audio, and/or switch to video to see their precious face on the other side of the screen. What a great way to make sure they're not up to mischief! What's more? You can start a one-on-one Chat or invite ALL of your kids to join at once, regardless of their location.

Participate in other communities on GetAssist and let your teen know that you enjoy this type of social engagement. Tell them about the types of respectful exchanges you are having and how much insight you have gained from your social platform experience thus far. When they see that your opinions are valued in the online world and that you've learned ways to best conduct yourself in a social network setting, your credibility will soar in their eyes!

Create your own community of interest, invite your friends, and show the kids you still know how to have fun! You can initiate discussions about fun memories from your own youth, share insight about various life experiences, seek advice when you need it most, and maybe even share a funny "meme" or two. And, if you aren't sure to how to keep your community upbeat and thriving, you're lucky to have an expert under your very own roof! Asking them to share some of their social strategies will make them feel credible and help them understand that you DO value their input.
Healthy interactions with your teenager in their digital world of comfort will increase the quality of your in-person interactions, too. By adapting to different methods of communication and attempting to understand the digital world that is second-nature to your teen, you ultimately gain brownie points in their eyes. As you grow and adapt alongside your kids, use GetAssist to help keep your relationship with them thriving!
https://www.getassist.com/wp-content/uploads/2020/02/Depositphotos_202215670_xl-2015.jpg
2697
4046
Rebecca LeClaire
https://www.getassist.com/wp-content/uploads/2019/06/galogo-300dpi-300x113.png
Rebecca LeClaire
2020-02-13 19:06:35
2020-02-13 19:06:35
Show Your Teen Love by Communicating Their Way