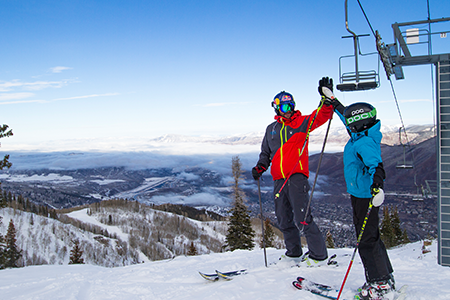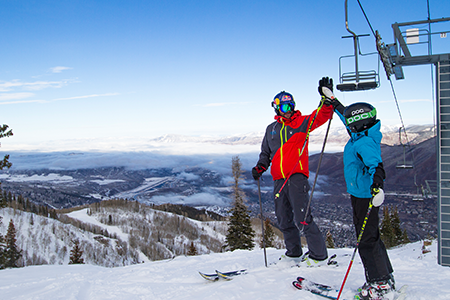 Whether you're tackling the Rocky Mountains from the powder in Banff or riding the gondola to the top of Breckenridge ski resort, the thrill of jumping on the snow-capped ridges pales instantly when considering looking out for the little ones. Making sure you don't collide with inexperienced kids on the slopes is hard enough, but what about bringing them yourself? We came up with a few pointers to ease your mind and make sure everyone—your kids and the other skiers on the mountain—have a fun time.
Be Prepared
The first thing you need to consider is the readiness of your child. Vail ski instructor Mark Raymond insists that understanding your kid's cognitive ability will help you determine if they can handle the sport. "Ideally," he says, "everyone would start at age 3." We recognize that this can't be the same for all learners, and despite your child's age, we recommend assessing their capacity for athletic ability before getting started.
Now when you're ready to head to the mountain, make sure you have everything you need. A surprising amount of parents neglect incredibly important gear when bringing along their kids. Water, sunscreen, chapstick…You will never regret toting along the little things that keep your children safe or, at the very least, prevent discomfort. If you're still feeling nervous, consider things like walkie-talkies (in case you get separated), hand warmers and extra water and food.
Quick Tip: Snow is known to get into some pesky little places, and one of the worst for children is their toes! Dry replacements for soaked socks prevent frostbite and an uncomfortable trip up and down the mountain.
Don't Underestimate Ski School
Every parent's nightmare ski trip involves their boy or girl barreling uncontrollably down the mountain, arms flailing, while they yell to no avail, "FALLING LEAF! SHIFT YOUR WEIGHT!" and chase down after him or her. The clearest solution involves educating your child before they hit the slopes. It's always a good idea to try ski school
These schools are nearly always moderated by instructors who are passionate about passing on the sport, and will give your kids the attention they need when it comes to technique. Sure, you may be advanced and savvy enough to instruct your children on your own, but ski school gives you the liberty to choose your own advanced runs while knowing your kids are in safe hands.
Quick Tip: Having someone on the mountain around the same age will encourage your little one to progress. Whether through healthy competition or otherwise, your child will be more enthusiastic about participation when a friend is learning alongside.
Safety Check
First and foremost, make sure your kids understand what they're getting into. If they've never skied or snowboarded before, that first encounter when lacquered composite comes in contact with snow can be intimidating. Once they come to grips with the necessary mentality, key their attention in on equipment. Are they using ski poles yet? Are their bindings set and stable? Snowboarding and skiing can be dangerous sports regardless of equipment performance, but equipment malfunction increases the chance of these injuries two-fold.
Another important facet is etiquette. Remind your kids of these quick tips:
Remember that skiers in front of (below) them on the trail have the right of way.
Look uphill before starting down a trail; others may be coming down from an extended run.
Call out "On your right/left" when passing people on a narrow trail or catwalk.
Quick Tip: Create a mental checklist for you and your kids to work through after you get off the lift. If you have everything in order, you're ready to go down your run. This will help for when your kids progress enough to go down a run unsupervised.
Understand Limitations
As mentioned before, kids usually don't have the tolerance of adults when it comes to trials on the mountain. The same principle for cold tolerance applies to physical exertion. If your kid is apt to midday naps, know that after a morning on the bunny hill, they are nearly twice as likely to need some rest and recovery.
Quick Tip: Consider the alternate activities at the resort when your kid tuckers out. Spend some time in the lodge, or maybe try sledding instead. Food and something warm to drink are always a plus. Set aside time for a cocoa break or just a reprieve from the sun and the cold.
After everything's said and done, the most important part of your trip is to ensure you and the rest of your family have fun. Enthusiasm and a love of winter sports will bring happiness more than anything else, but don't forget these tips next time you plan an adventure mountainside with your kids.
https://www.getassist.com/wp-content/uploads/2016/12/GA_Blog_First-Ski-Trip.png
300
450
GetAssist Author
https://www.getassist.com/wp-content/uploads/2019/06/galogo-300dpi-300x113.png
GetAssist Author
2015-12-04 20:00:00
2015-12-04 20:00:00
Memories in the Making: Your Kids' First Ski Trip