Your business needs the clicks, and as you look through your browser, the idea of competing with similar industry links for engagement could be overwhelming. In reality, business directories make sufficient marketing effortless, and they're highly accessible. When looking over your options, take advantage of the following characteristics of a quality directory.
Are Directories Still Useful In 2021?
Sure, Google is a bit more seasoned these days, but that's just another reason to make sure your listing is on the front page. They say that if you aren't online, you don't exist. In the money-making world, that means increasing your search engine optimization and doing anything you can to boost your first-page visibility. The convenient part is, many times, it's free to utilize directories. As an entrepreneur, you have nothing to lose unless your listings lack accuracy as well as credibility. Free or not, make a wise investment!
Higher Visibility
The best part about listing yourself in one high-quality directory is that you oftentimes automatically get entered into more. Beware when this mechanization happens that you check the third-party listings are precise. In the web of tools used for elevated SEO, connecting information about your business from outside websites to yours, accuracy matters. List in the right directories, and consumers won't even have to type in your company's name. Service and product keywords are more than enough to land you on the front page of Google. What's more, without clicks, just seeing your name increases brand awareness.
Choosing Directories That Get Results
The elements of listing options can differ across platforms, starting with price. Yes, it is okay to start with the free ones. There are many of them, and most of them have the quality you need because they profit from their advanced features (which are usually worth paying for and using.)  These often include employing local search filters, an essential benefit for local business owners to look for. At this point, you may be wondering if there is any sense in paying for your listings. That answer depends on your unique situation, so make sure you can check these guarantees off before spending:
Your website link will be listed, OR consumers can contact you directly

Confirmation that you will be on the front page of your search criteria

You can see the click reports

After measuring the value of online marketing options, the amount of visibility you receive will be profitable
Even without spending a penny, these should be your directory requirements:
A niche focus:

The guides you select should be designed for your

target audience

and particular industry. Where your customers are looking is where

you

should be!

Standards:

If you recognize a business listed next to yours that makes you cringe and doesn't seem to belong there within the niche, how likely will that scenario be any different for other viewers? That negative type of association could easily do more harm than good.

Accuracy:

What's the point if the listing can't even point consumers in the proper direction?

 Make sure they can't see you're enlisting the help of a website with duplicates and errors.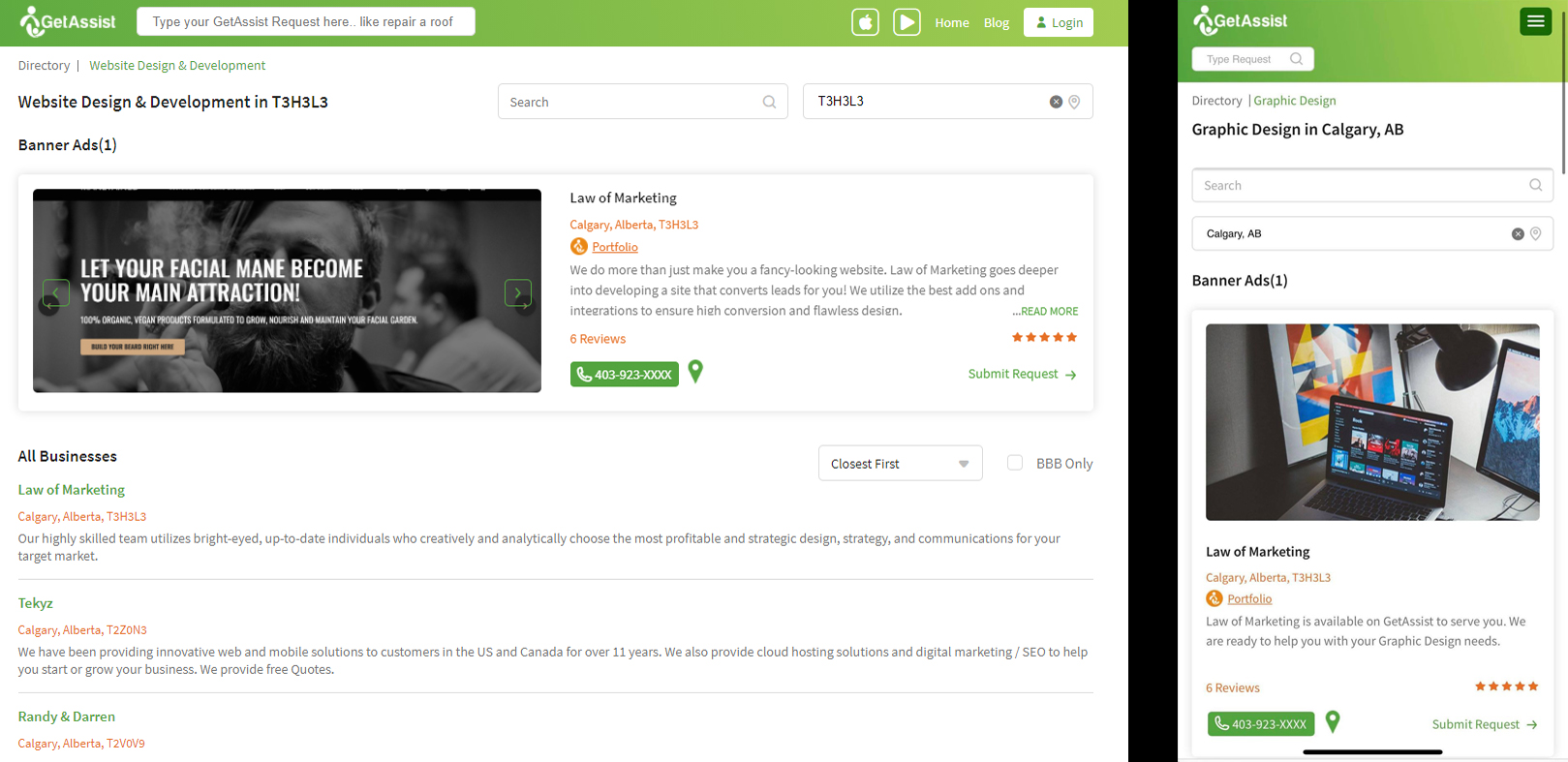 Introducing The GetAssist Business Directory
GetAssist has launched a directory of all its business members. Now, your business has more opportunities to be found within and outside the network! The following are features of the GetAssist Business Directory that make it stand apart:
Every Business Member of GetAssist gets a FREE Business Directory listing in their service locations and areas of expertise.

The GetAssist Business Directory is designed for SEO performance. Since SEO is first local, unique links from our directory for every town and service offered on the directory show up on search engines.

Mobile search and usability is a big player in SEO ranking, to that end the GetAssist Business Directory is mobile optimized.

Make real-time changes to your business listing to keep it up-to-date and accurate by simply updating your settings within your GetAssist account.

GetAssist makes it easy for visitors to find the service provider they are looking for by either searching by service and location or simply making a request for what they need and then being matched up by business members in their vicinity.

When a business is selected off of the directory, the consumer can request a quote directly.

For companies not already a part of the GetAssist Business Network, a membership already packed with essential business tools never had more value than today.
Check out the GetAssist Business Directory today. When looking for help from local service providers and small businesses, it is all at your fingertips here. For companies not already a part of the GetAssist Business Network, a membership already packed with essential business tools never had more value than today.
https://www.getassist.com/wp-content/uploads/2021/08/business-directory-web-and-mobile.jpg
787
1619
Rebecca LeClaire
https://www.getassist.com/wp-content/uploads/2019/06/galogo-300dpi-300x113.png
Rebecca LeClaire
2021-08-13 19:26:14
2021-08-13 19:42:15
Business Directories: How To Select Them For SEO Benefit