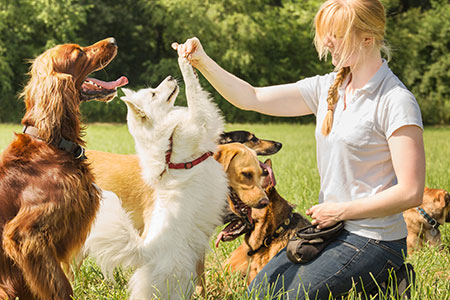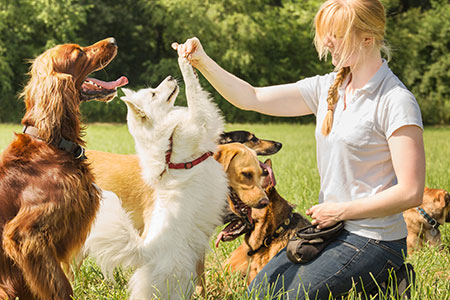 Getting a pet is an exciting time in life, filled with fuzzy cuddles, wet noses and ?? But it's also a time when potty accidents and chewed up sofas are "cute." Believe us, this honeymoon stage doesn't last long. Training your new pet should start the moment they become part of your family. Here are six signs you need to bring in a professional to help with your pet's training.
1. Destructive tendencies
Dog lovers accept that when they adopt a new fur ball, it's inevitable they'll lose a shoe or two during the first few weeks of dog parenthood. But if you find that your curtains, window blinds, furniture and anything else in your dog's reach is being demolished, it's time for help. Some chewing is normal, particularly in younger dogs, but some need more help than others when it comes to curbing the habit.
2. Barks excessively
It's a given that dogs will bark occasionally. Barking is considered normal under circumstances such as a knock at the door, strangers entering your home or if they spot something out of a window. Some dogs also bark as a part of playtime. But barking can be considered excessive if your dog barks when crated, when separated from you or to get attention.
3. Exhibits symptoms of separation anxiety
Separation anxiety usually presents itself as extreme anxiety (whining, nervous behavior, etc.) when you engage in routines that send signals to your dog you're about to leave—like picking up your keys or your jacket. If your dog has separation anxiety, you'll find that your dog is destructive, hyperactive, barks excessively or eliminates inside. He also might try to escape while you're away.
4. Is aggressive in any way
Your pooch is a sweet little angel, until you come near him while he is eating, a child or other stranger approaches or you introduce another dog. Suddenly your darling dog is barking, growling and snapping. If your dog is aggressive toward people, children, other dogs, around their food or even toward you, it's time for professional help.
5. Isn't house trained
A few accidents here and there are normal, but if you have a dog that isn't 90 percent house trained, you'll probably need some help. A qualified dog trainer can walk with you through the steps of house training and help you troubleshoot problems that arise. They can also help identify other problems such as submissive urination and urine marking, or if your dog has a medical condition causing him to urinate indoors.
6. Basic things are a hassle
Your dog might not have any major behavior problems like the ones mentioned above, but it's still important that you can control him with basic commands like come, sit, stay and loose leash walking. If your dog won't come when you call, you can't go on a walk without being dragged around or you can't get out the door without Fido trying to bolt through, it's time to find a dog trainer.
Looking for a qualified dog trainer in your area? Pre-register for GetAssist and use it to find a qualified trainer in your community when we launch in Phoenix, Arizona and Calgary, Alberta in July! Remember: it doesn't matter how old your dog is. It's never too late to start training because you can teach old dogs new tricks.
https://www.getassist.com/wp-content/uploads/2016/12/GA_Blog_Dog-Training.jpg
300
450
GetAssist Author
https://www.getassist.com/wp-content/uploads/2019/06/galogo-300dpi-300x113.png
GetAssist Author
2015-05-29 12:02:46
2015-05-29 12:02:46
6 Signs You Need a Dog Trainer (And How to Find One)