4 Services You Didn't Know You Needed for Your Wedding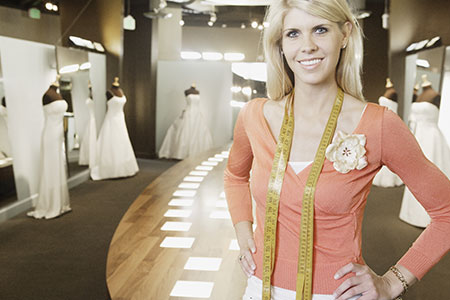 They say it takes a community to host a wedding. Alright, maybe they don't say that, but they should. Of course there's the DJ, caterer and cake baker. There's also the photographer, florist and hair stylist. Oh and don't forget the officiant, venue manager and honeymoon travel agent. These service providers are all no-brainers, but there are still some you may not even know you wanted or needed to hire. These four service providers can make your big day that much more special.
1. Dressmaker
Working with a dressmaker to design and create a custom wedding gown is something most brides would assume is out of their budget. But it's always worth it to check in with a local dressmaker to go over your price range and budget. Use Pinterest to pin images of dresses you like, and bring in clothing items that make you feel your best during your first consultation. Heidi Elnora of TLC's hit show Bride By Design often also asks brides to bring random items to help describe their style. And of course, "I would definitely go to someone that you have seen their work, you've met with them and you've heard really great reviews about them," said Elnora to The Gloss.
2. Day-of wedding coordinator
You may not need to spend the money on a wedding planner an entire year before your wedding, but hiring a day-of coordinator is a great alternative. Brides always convince themselves that they can tackle any day-of activities or mishaps with their mother, sisters and bridesmaids. But there's one little problem. In most instances, they're going into uncharted territory. Day-of wedding coordinators have experience mediating disasters and handling crisis situations. After spending months and thousands of dollars planning this one day, why leave it up to chance? Go with the professional and free yourself up to enjoy the most important day of your life.
3. Lighting specialist
Lighting is extremely important to creating the right mood and vibe for your wedding, but it's often an overlooked service. According to Boston-based event lighting and design company SociaLight, lighting makes everything come to life. All celeb weddings have special lighting setups that complement the flowers and décor. Lighting can even make the food more mouth-watering! From romantic candles to dance floor spotlights, lighting can make a big difference on your ceremony and receptions setups.
4. Calligrapher
From invitations to place cards, there's a lot of pieces that can benefit from a hand-written touch that seems long-forgotten. Calligraphers may cost more than just doing it through a computer, but the old world beauty can be the finishing touch you need to bring everything together. People will appreciate seeing the time taken to ink their names with care, and they'll be in awe at your attention to detail. This could be considered a luxury service, but it's a trendy one that's definitely something to consider.
Having trouble finding wedding service providers near you? Never fear, GetAssist is here! GetAssist can help connect brides to service providers in their community for all of their wedding needs.