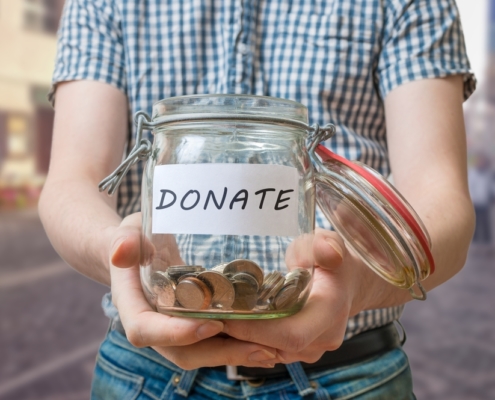 Community organizations frequently run off the generosity of others. But every now and then, it takes a little cash to make things run. A fundraising campaign can help you connect your organization with the community and help you raise the money you need to buy football jerseys for the team.

---
1. Plan it well
Before you jump right into fundraising, take some time and think out your campaign. Some of the things to consider are how much money you need to raise and who your target audience is. Remember: keep your goals realistic. You can always do more than one campaign!
2. Factor in the cost to you
The key to fundraising is giving something away in exchange for donor's support. For example, to raise money for those football jerseys, you might be selling coupon book, for example. You have to make sure you factor in what it costs to buy those coupon books and make sure your fundraising goal covers that cost, plus the money you need. Remember: you're only successful if you can make more in business than you spend on the perks. Speaking of perks…
3. Offer good perks!
Make sure your perks are well thought out and attractive to your audience. Think about your target market and what perks would be beneficial to them. For example, if you're trying to get your neighbors to help buy those jerseys, coupons to the team sponsor's restaurant might be the way to go, or a free ticket to watch the game.
Bonus tip: What's an easy way to offer great perks and keep the cost down? Reach out to local business and see if they are willing to partner with you and donate perks. Sponsoring local community groups is a good practice for local business that helps them build brand awareness and drive customers, so there is a good chance they'll be willing to help out!
4. Spread the word
Depending on the project, this could mean anything from knocking on doors, to emails to posting on different online communities. Again, think about your target audience when deciding where to recruit.
Bonus tip: when posting online, remember to check and double check your spelling. Have at least one other person proof read it before you click "post."
Get the word out with GetAssist
Spread the word about your fundraiser by joining GetAssist communities that relate to your organization. It's also the perfect place to connect with your community members who may be willing to donate some awesome perks to your cause.
https://www.getassist.com/wp-content/uploads/2015/06/shutterstock_392546074.jpg
665
1000
GetAssist Author
https://www.getassist.com/wp-content/uploads/2019/06/galogo-300dpi-300x113.png
GetAssist Author
2015-06-10 12:02:49
2015-06-10 12:02:49
4 Fundraising Tips for Community Organizations