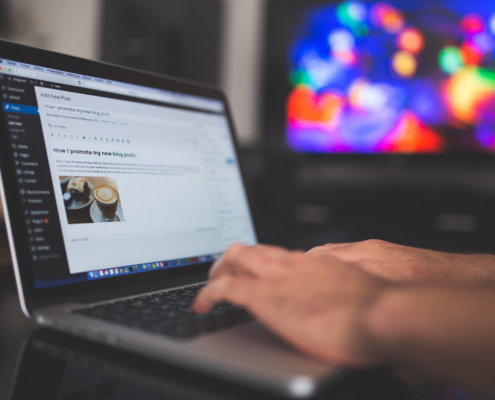 So you've got a blog. You're really with it. But you're still not gaining leads, increasing website traffic or making friends with the right people. This must be due to a lack of content on your site. That's what all the digital gurus tell you, anyway. So you decide the proper course of action is to churn out more content and sit on your hands waiting for better results.

Nope—We won't let you do it. According to this Forrester report, around 50 percent of content from corporations goes unused. Mindlessly writing and pushing out lackluster content is no longer the only path you can take. Digital marketing strategies have evolved, baby! Because of this, we all need to begin thinking smarter, not harder when it comes to our blogs.
---
Let us introduce you to a little term called "historical optimization." Whether you blog in an effort to become a thought leader in your industry, promote the services offered by your small business or even just for your personal passion, every blogger can benefit from this simple strategy.
Historical Optimization
Historical optimization means revamping your older blog posts so they can freshly regain their power both with Google and your readers. Getting recurring engagement from past blogs is one of the core benefits of blogging! It's a free way to bring others to you and get them to listen to what you want to say. With a few minor tweaks, the past blog posts you worked so hard on can begin working for you long after they're posted.
How to Do It
With some helpful tips from HubSpot, here's how you can quickly and easily optimize your best blog posts from the past:
Keywords: Focus on specific keywords people are using to find each post in your analytics, and incorporate one or two into your posts.
Fresh Factor: Google's algorithm rewards articles based on their publication date. Update your best-performing blog posts regularly with three goals in mind—improve accuracy, freshen it up and ensure comprehensiveness.
You Still Need Content
Content is still king, and you still need to keep up with your content calendar if you want to reap the benefits of content marketing. The main key to remember in both new content creation and historical optimization of old content is to create content that is actually useful to your audience.
Content Creation + Historical Optimization = Bulletproof Blog Strategy
Haven't considered blogging yet? Don't worry! You always have time. GetAssist is all about connecting with purpose, and that's why we've added a blogging function right into the platform. Blog on GetAssist to keep your closest friends, family and customers in the loop and provide them with quality, helpful content.
https://www.getassist.com/wp-content/uploads/2015/08/blogging.jpg
853
1280
GetAssist Author
https://www.getassist.com/wp-content/uploads/2019/06/galogo-300dpi-300x113.png
GetAssist Author
2015-08-17 12:02:40
2015-08-17 12:02:40
Simple, Uncommon Tips to Increase Your Blog's Reach