Whether your design tastes sway more modern, eclectic, or anywhere between, the bathroom is always a great starting point when giving your home a facelift. Here are the trends we are seeing in 2018.
Modern bathroom trends for 2018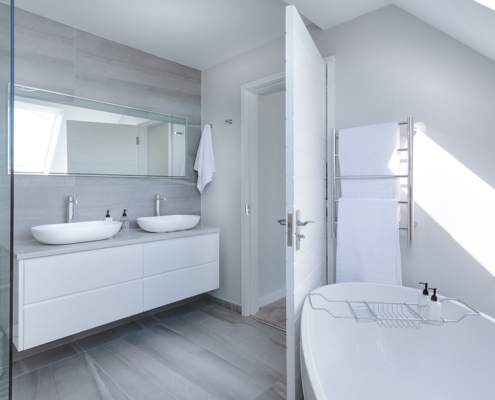 We're seeing lighter, neutral colors and earthy elements in the bathrooms of modern-esque homes. Light shades of gray, taupe, or white paint are used on the walls while similar shades are used for tile, backsplash, and feature strips. You can't go wrong with a simple white-on-gray theme to start with. Earthy touches such as woven baskets, bamboo flooring, and wooden towel-drying ladders are being incorporated to enhance the uncomplicated yet sophisticated space.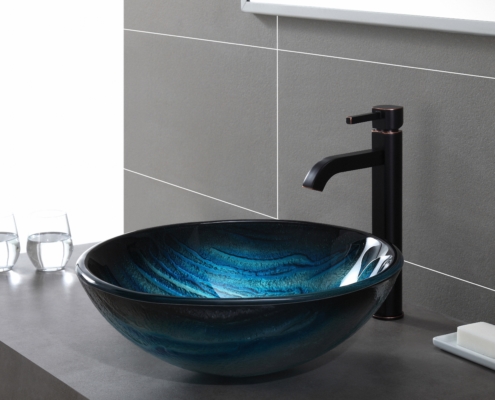 Vessel sinks are hot right now. Who knew such a basic necessity could add so much appeal to your bathroom area? Since squares/rectangles tend to dominate the bathroom symmetry game, adding an ovular or soft-triangular vessel sink will provide a nice offset. Attention will be drawn to a vessel sink since it's raised above the vanity top, so use it to your advantage! Have it serve as your one "wild card" by using multi-colored-glass, stone, or handpainted ceramic as the vessel.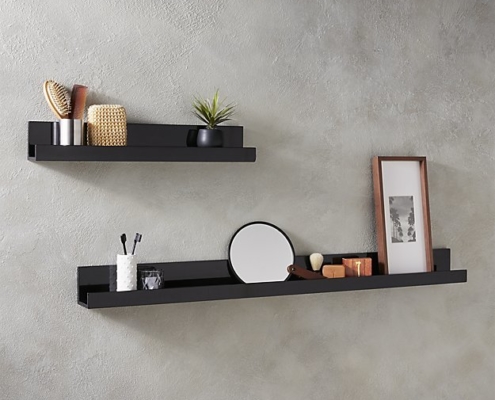 Additional cabinetry tends to be the go-to solution when more storage is needed, but not anymore! Instead, floating shelves are being incorporated due to their functionality, space-maximization, and design appeal. They're incredibly versatile since they come in all different styles and sizes. In fact, they're considered some of the "magical unicorns of design; they just seem to work everywhere," according to HGTV.com. Whether you opt for glass or floating wooden shelves, just make sure the hardware you use to hang them blends in.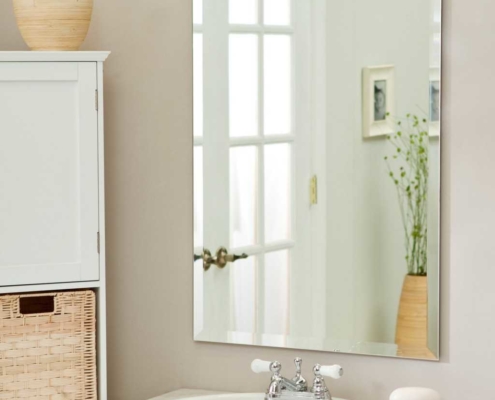 Dainty, lightweight mirrors with thin rims are favorable right now. Mirrors are seen as a necessity and have mainly a practical use, so there's no need for extra bulk and embellishment. A bulky mirror in an otherwise clean-cut space will stick out like a sore thumb.
Eclectic bathroom trends for 2018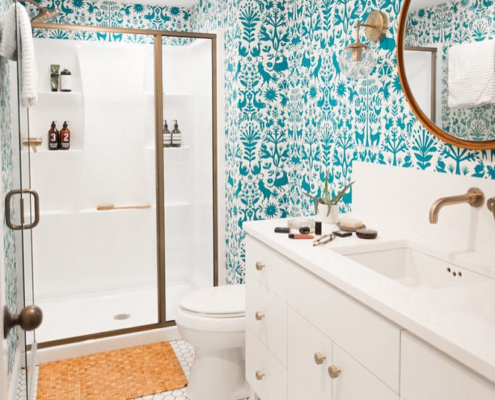 Wallpaper in bathrooms is picking up some serious speed. It provides an array of design options that simply can't be reproduced with paint. If you tend to appreciate a pop of "pizazz" in spaces, then this would be an excellent option for you to pursue! With wallpaper, various elements such as shapes, colors, textures, etc. can be used all-in-one to exude a bold yet flawless look. If you're apprehensive about using wallpaper in the entire bathroom, you can still use it for an accent wall.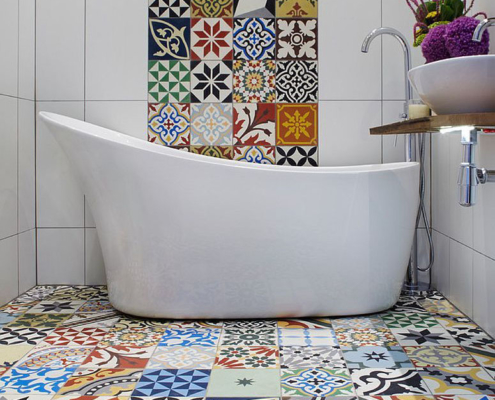 If paired with appropriate features elsewhere in the bathroom, bold bathroom flooring can literally be the "selling point" of a property. Depth is important and valuable regardless of whether you have a small or large bathroom, and nothing provides more depth than intricate floor tiling. Sure, we just stand on it, but it sets the tone for the entire space from the bottom-up. Are there certain countries or cultures whose designs have always stood out to you? Why not mimic them on your own floor?!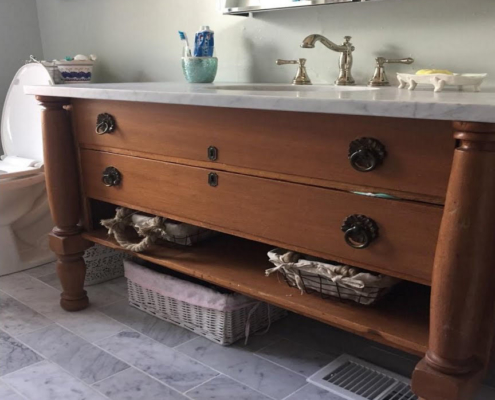 Vanities and sconce lights are for practical use, but they can also be for luxury. Vanities that resemble pieces of furniture are in right now, similar to a dresser or bedside table, for example. Furniture-ish vanities add a hint of antiquity to the space which simultaneously makes for an elegant look. Pair the vanity with a set of rustic sconces, and you'll be so pleased with the change in atmosphere!
Take a moment to think about some shapes that are uncommonly seen in home design…now, use them! Accent shapes like trapezoids, scalene triangles, hexagons, puzzle pieces, etc. are a great way to add some "flare" to your bathroom. Consider a chevron-shaped backsplash, a spherical chandelier, a half-moon shaped mirror, and anything else you can dream up. Shapes are automatically appealing to the human eye, so you can't go wrong!
Do you wear silver and gold jewelry at the same time? Do you wear brown shoes with black pants? If so…good! That means you're a risk-taker and trend-setter. Set another trend by combining design elements from both the modern and eclectic category!
If you would like to make some of these ideas come to life, it could not be easier than making a request on GetAssist for the help that you need.
Designers, Contractors, Plumbers, Flooring Installers, Handymen… they are all there waiting to service your home redecorating or renovation dreams.
https://www.getassist.com/wp-content/uploads/2018/09/vessel-sink.jpg
3744
3744
Rebecca LeClaire
https://www.getassist.com/wp-content/uploads/2019/06/galogo-300dpi-300x113.png
Rebecca LeClaire
2018-09-08 18:01:38
2018-09-08 18:01:38
Bathroom Trends Emerging Through 2018