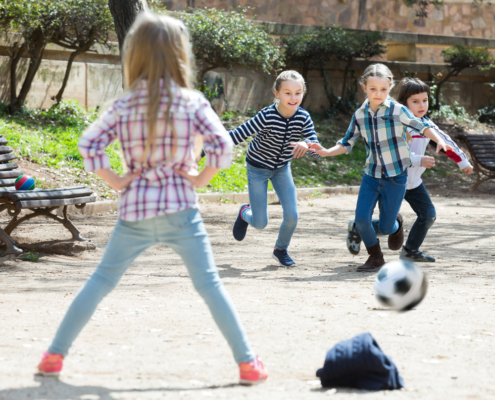 Across the world, the consensus is that youth sports and exercise needs to be a bigger part of our children's lives—Particularly in the lives of those children who spend too much time in front of computers, video games and television.
London's mayor, Boris Johnson, recently spearheaded a campaign to improve child fitness. And in the US, First Lady Michelle Obama forged an inspiring "Let's Move!" campaign that's gaining steam. Both campaigns are intent on remedying child obesity—in 2013, 42 million children worldwide under the age of 5 were overweight. Both campaigns also concentrate on raising a healthier generation of kids, and reinforcing the fact that obesity is preventable.
With the recognition of these crusades coming from such an incredibly high level, the presumption (or hope) that participation in youth sports is at an all-time high. However, recent studies show the exact opposite.
What's Going on with Youth Sports?
Statistics published by the Sports & Fitness Industry Association (SFIA) show we're now more spectator than participant. Highlights from their 2015 report reveal a drastic decline in participation over the past five years by children ages 6 to 17.
Not only do they show a drop in participation, but they also reveal a decline in the top 10 major team sports:
baseball
basketball
cheerleading
court volleyball
fast-pitch softball
field hockey
ice hockey
outdoor soccer
tackle football
tennis
track & field
Another report published by American Sports Data, Inc., reveals a disturbing pattern: By some estimates, more than 70 percent of participants drop out of youth sports programs along the way to high school.
Root Causes
There are different reasons for the decline in youth sports participation. The top four are:
Rising pay-to-play costs for school sports and league play has made it too expensive for many families
Youth addiction to technology, electronic devices and social media encourages sedentary behavior
The decline and lack of quality physical education in the school systems
Young athletes are too focused on playing a single sport and not multiple activities
"Another overlooked element is the decline of 'sandlot' play—in all sports—where children play in the backyard or an open field, pick the teams, establish the rules and resolve any kind of rules infractions," says Jim Baugh, Founder, PHIT America. "Too many youth sports opportunities are driven by parents that are taking these fun, recreational activities too seriously, which detracts from the all-important fun factor that is a big part of the recreational sports experience. We have to let kids be kids and have fun!"
The Concerns are Real
The decline in youth sports participation is troubling. The impact on society and our children is not a healthy one; we need to attack the issues, educate parents and encourage physical fitness. The alternative? The potential consequences of an obesity epidemic. In a video created by the researchers at Nike, it states that members of this generation are expected to live five years less than their parents.
"…the first 10 years of a child's life provide a critical window for creating a lifelong commitment to physical activity. With children dropping out of physical activity earlier in life, European children are 50 percent less active by age 15 than they were at age 9; in the U.S., children are 75 percent less active at age 15 than at age 9. " –presented by Nike, The American College of Sports Medicine, The International Council of Science & Physical Education and several other expert organizations.
The population is going up, while participation in youth sports is going down. Let's change the trajectory by connecting with your local community on GetAssist and starting groups that encourage movement in our kids. Host a playgroup community on GetAssist, invite your neighborhood and organize the parents and kids to play street ball or other games, or use our FREE Virtual Locker Room to make organized sports a whole lot easier and fun to be involved in for everyone.


https://www.getassist.com/wp-content/uploads/2015/10/getkidsoutside.jpg
857
1000
GetAssist Author
https://www.getassist.com/wp-content/uploads/2019/06/galogo-300dpi-300x113.png
GetAssist Author
2015-10-19 12:02:32
2015-10-19 12:02:32
Keep Kids Moving - Their Future Depends On It