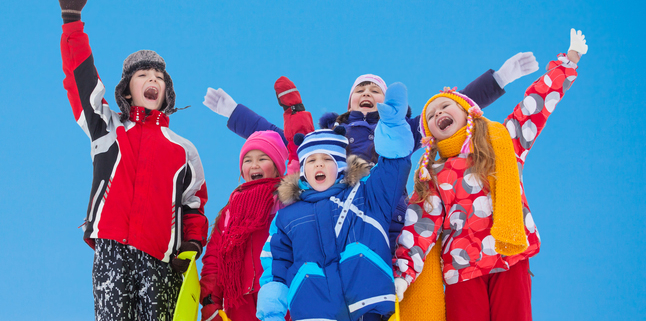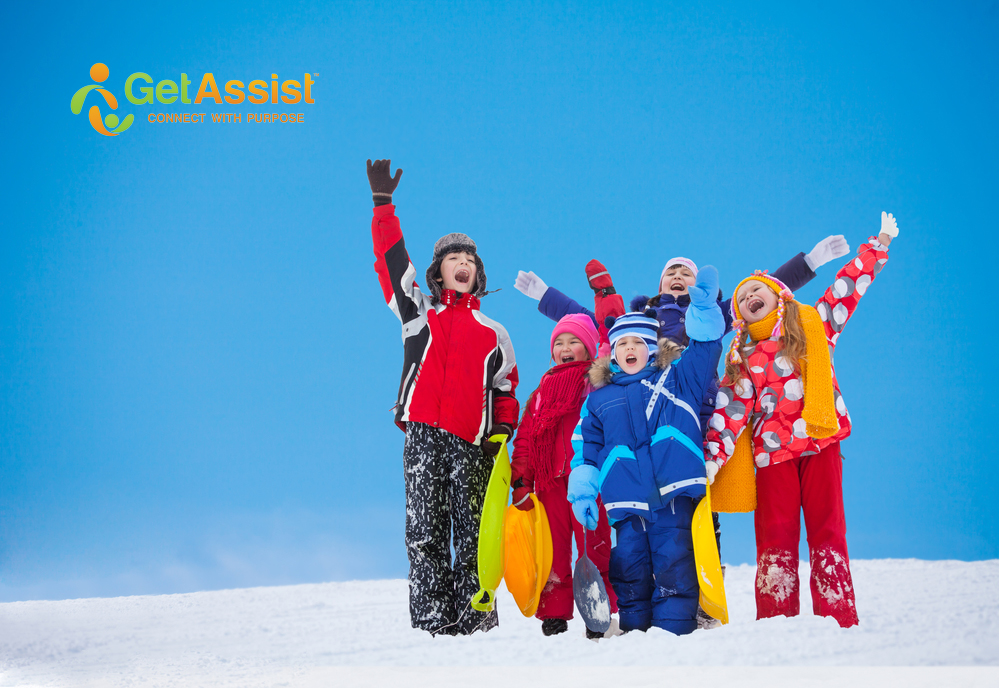 We've all gone to bed with the roads clear and dry, only to wake up to find that Mother Nature had a busy night. The driveway, which you shoveled last night, is now hard to distinguish from your lawn. It's no surprise to learn that your area has a list of school closures for the day, including the one your children attend. Before the kids awake to celebrate the most jubilant of discoveries, a snow day, you can be armed with a few activities to keep the "I'm bored." and "I told you not to touch that!" at bay.
Schedule a neighborhood play date:
Reach out to other parents nearby to take turns throughout the day. An easy way to do this is by creating a Neighbourhood Community on GetAssist. Post on the Bulletin Board or Create a poll for parents in the community, and quickly find out who wants to partake. Assign shifts throughout the day with the community's events and shared calendar features.
Embrace the snow
There are so many snow activities to choose from, if it isn't too cold to be outside. Make a snowman or snow angels, build a snow-fort, go sledding, or make snow paint with food coloring, water and a spray bottle. If the kids are old enough, have them help shovel the driveway. If the neighbors are snowed in, have them help shovel the neighbor's driveway. This will help burn some of their energy!
Bake
Pull out the flour and chocolate chips and start baking! From classic chocolate chip cookies to decadent brownies, baking is a great way to bond with the kids. Plus, warm fresh baked cookies are a great reward after their hard work shoveling snow!
Make hot cocoa
Keep the chocolate chips out and make hot-cocoa from scratch! Try making it in the slow-cooker or crockpot. The entire house will smell delightful.
All you need is:
2 C milk
2 C half-and-half
1 C semi-sweet chocolate chips
Splash of vanilla extract or a pinch of cinnamon and nutmeg
Whipped cream to top
Build a fort
Grab the couch cushions, blankets, sheets and pillows and have fun making a fort!
Set up an indoor scavenger hunt
This one takes a little planning ahead to do, but once the children are on the hunt for the treasure you've hidden, you'll have a some time to yourself to get on with what you had intended to do for the day.
Make paper snowflakes
This arts-and-crafts project is timeless. Almost everyone has computer paper or coffee filters and scissors handy, so even if you are snowed in, you will not have to run to the store to pick up supplies.
Make homemade play dough
The kids will have fun making it, and have fun playing with it after.
What you'll need
1 C water
1 TB vegetable oil
1/2 C salt
1 TB cream of tartar
Food coloring
Saucepan
1 C flour
Directions
Combine water, oil, salt, cream of tartar, and food coloring in a saucepan and heat until warm.
Remove from heat and add flour.
Stir, then knead until smooth.
Store this dough in an airtight container or freezer bag.
Board games
Play your favorite games. If your board games are limited, download a charades app on your phone or tablet. Many apps are free and have categories for all age ranges.
Write letters
Take out the pen and paper and have the kids write letters to grandma, grandpa, aunts, uncles or whoever they want to write to. They can have fun and write a creative story, write them about their day, or perhaps draw them a picture. Either way, it'll entertain the kids! As a bonus, Grandma or whoever is the recipient of the letter will have a nice surprise in a few days when they check their mail!
What are your go-to snow day activities?
We hope this compilation gets you through the next snow day and combats cabin fever. And after a day of a house full of kids, Make a GetAssist Request for a residential cleaner while you recuperate.
https://www.getassist.com/wp-content/uploads/2018/01/snowday2.jpg
688
646
Rebecca LeClaire
https://www.getassist.com/wp-content/uploads/2019/06/galogo-300dpi-300x113.png
Rebecca LeClaire
2018-01-10 19:13:48
2018-01-10 19:13:48
How to Rock Snow Day: 10 Activities the Kids Will Love